Corporate Partnerships
The Cork Association for Autism always welcomes the opportunity to develop new corporate relationships. We seek to develop partnerships which both benefit our service users and is of benefit to your company. From corporate team days to gift-in-kinds, we welcome all contributions and ideas.We work with companies who believe in our values and want to make a difference to their community.
If you would like more information about corporate partnerships and would like to discuss the many ways which staff can get involved please contact Denise Murphy on 021 4533642 or email fundraising@corkautism.ie.
Below are some ways that you can develop a partnership with the CAA:
Charity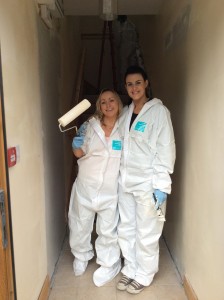 of the Year: Pick us as your charity of the year and pool your strengths to support our cause. 
Sponsorship: Sponsor one of our events such as our Light it up Blue Gala Ball, Golf Classic, Fun Run or Christmas Concert. 
Staff Fundraising: Organise a fundraising and awareness event at work or support our events. Why not recruit a company team to take part in our Blue Balloon Fun Run in September? 
Become a Major Donor: Help fund the development of one of our capital projects at our service centres.
Payroll Giving: Payroll giving enables you to donate a fixed amount directly from your salary each month. 
Team-Building Day: Companies including Irish Distillers, EMC, Gilead Sciences, Janssen Biologics, Amazon and Musgraves are just some of the corporate partnerships we have developed over the past number of years. These companies have visited our centres to lend a helping hand on a variety of projects including, painting, renovation & repair work, fencing, gardening projects. tree planting and assisting in the development of new facilities for our Service User's. What better way to build team spirit!
Become a Cork Association for Autism Charity Partner
Have you or your company thought about the benefits of becoming a charity partner to a local charity like Cork Association for Autism?
This article on the Ulster Bank website sums up the benefits for both your company and the charity you choose to partner.
Previous Charity Partners
Cork Association for Autism was chosen by Irish Distillers, Midleton Distillery as their charity partner for 2016 and again in 2017.
In 2016 thanks to the dedicated efforts of the Midleton Distillery employees we were successful in our plan to introduce an outdoor fitness facility in our Crobally Service Centre in Mogeely. Due to the sensory nature of autism a mainstream fitness centre would not be a practical solution for many of the people who avail of the services at the CAA. The introduction of the outdoor fitness facility has been a huge success and is utised daily by the Service User's at the Crobally campus. It has enabled these individuals to lead a fit and active lifestyle that everyone should be able to enjoy. Thanks to the contributions and hardwork of the Midleton Distillery employee's the quality of life for those availing of our services has indeed been improved. 
In 2017 we were delighted to have the Midleton Distillery staff working with us throughout the year in a variety of fundraising efforts and activities in a bid to contribute towards the development of the grounds in Crobally. Including the introduction of a Sensory Garden on the grounds. This will provide a therapeutic outdoor space for our Service Users'. We also partnered with the Midleton Distillery employees to arrange Employee Difference Days which were an opportunity for staff to come on site to our campuses to work on a series of projects which were in much need of some helping hands. 
The support the Cork Association for Autism has received from Irish Distillers, Midleton Distillery bunch of people and really are making a huge difference in their local community.  We could not be more delighted to partner with them once again this year.to date has truly been nothing short of incredible. Their contribution to our charity in terms of support, funding and community integration has been phenomenal.  They truly are an exceptional 
Please take a look at the video below which gives a small idea of difference they have made to our charity so far: 
Cork Association for Autism – Crobally House from blue shed productions on Vimeo.